Department of Cognitive Science
Samantha Parker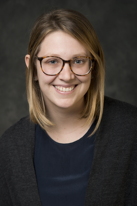 PhD Student
Contact Details
email : samantha.parker@students.mq.edu.au

External Address
Department of Cognitive Science
Australian Hearing Hub
16 University Avenue
Macquarie University NSW 2109
I also have a profile at the ARC Centre for Excellence in Cognition and its Disorders.
Thesis Details
Investigating the relationship between attention and eye movements during decision making.
Scholarship : MQRES
Workload : full time
Supervisors : Associate Professor Matthew Finkbeiner and Professor Andrew Heathcote (University of Tasmania)
Conference Presentations, Colloquia, and other presentations
Parker, S., Heathcote, A., & Finkbeiner, M. (2017, April). The influence of attentional alignment on performance and evidence accumulation. Poster session presented at the 44th Annual Conference of Australasian Society of Experimental Psychology (EPC17), Shoal Bay.
Parker, S., & Finkbeiner, M., (2016, April). Making moral decisions: Examining the interplay of cognition and intuition during the resolution of moral dilemmas. Poster session presented at the 43rd Annual Australasian Experimental Psychology Conference (EPC), Melbourne.