Department of Cognitive Science
Dr Yu Li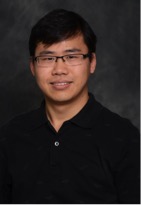 PhD Student
Contact Details
email : yu.li8@students.mq.edu.au

External Address
Department of Cognitive Science
Australian Hearing Hub
16 University Avenue
Macquarie University NSW 2109
I also have a profile at the ARC Centre for Excellence in Cognition and its Disorders.
Thesis Details
The development of brain connections between ventral occipito-temporal cortex and the other language regions and its dysfunction in dyslexic children.
Scholarship : CSC
Workload : full time
Supervisors : Professor Anne Castles and Associate Professor Sachiko Kinoshita
Grants Awarded
ARC CCD Neural Markers Training Scheme (2016) "Neural correlates of letter-sound integration in English adults with dyslexia." Litt, R., Yang, J., Li, Y., Byrne, B., Savage, G., Finkbeiner, M., Sowman, P., Castles, A., Kinoshita, S., Banales, E., & de Lissa, P. ($10,300)
Selected Publications
Periodicals
Loft, S., Jooste, L., Li, Y.R., Ballard, T., Huf, S., Lipp, O.V. & Visser, T.A.W. (In Press). Using situation awareness and workload to predict performance in submarine track management: A multilevel approach Human Factors.
Zhang, L., Li, Y., Wu, H., Li, X., Shu, H., Zhang, Y., & Li, P. (2016). Effects of semantic context and fundamental frequency contours on Mandarin speech recognition by second language learners. Frontiers in Psychology, 7, 908. doi:10.3389/fpsyg.2016.00908
Li, Y., & Shu, H. (2014). The brain mechanisms and functional hypothesis of default mode network and its clinical application. Advances in Psychological Science, 22(2), 234-249. [Link]
Conference Presentations, Colloquia, and other presentations
Li, Y., Kinoshita, S., Sowman, P., & Castles, A. (2016, November). Early feedback from frontal to occipito-temporal cortex during visual word recognition. Poster session presented at the 6th Australian Cognitive Neuroscience Society Conference (ACNS), Shoal Bay.
Li, Y., Shu, H., & Zhang, L. (2014, August). The development of reading network: Evidence from resting state functional connectivity. Paper presented at the 1st International Conference of Human Brain Development, Beijing, China.