Department of Cognitive Science
Trudy Krajenbrink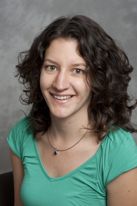 PhD Student
Contact Details
Office : 3.814
Phone : +61 2 9850 4136
Fax : +61 2 9850 6059
email : trudy.krajenbrink@mq.edu.au

External Address
Department of Cognitive Science
Australian Hearing Hub
16 University Avenue
Macquarie University NSW 2109
I also have a profile at the ARC Centre for Excellence in Cognition and its Disorders.
Thesis Details
Generalisation effects in treatment of acquired language disorders.
Scholarship : iMQRES
Workload : full time
Supervisors : Professor Lyndsey Nickels and Dr Saskia Kohnen
Conference Presentations, Colloquia, and other presentations
Kohnen, S., Nickels, L., Barisic, K., Moore, K., Kezilas, Y., Krajenbrink, T., & Colenbrander, D. (2013, May). Generalisation of untrained irregular words in spelling. Paper presented at the International Workshop on Reading and Developmental Dyslexia, San Sebastian, Spain.
Krajenbrink, T., Nickels, L., & Jonkers, R. (2010, September). Access to orthographic forms in letter-by-letter reading: Evidence for one underlying reading system. Poster session presented at the Science of Aphasia XII, Barcelona, Spain.